WinFax PRO Replacement Fax Software
Switch from WinFax PRO to FaxTalk FaxCenter Pro 8
Your search for a WinFax PRO replacement is over! Replace your old discontinued fax software with FaxTalk FaxCenter Pro. FaxTalk FaxCenter Pro 8 is an excellent alternative to WinFax PRO that provides advanced fax capabilities in an easy-to-use program that shares a similar appearance and operation to WinFax PRO and supports Windows Vista 7/8/10!
Import your existing phonebooks and faxes
If you've been using WinFax PRO you probably have old faxes and phonebooks in WinFax PRO that you don't want to lose. To make switching easier and to aid in the transition from WinFax PRO, FaxTalk FaxCenter Pro 8 includes import capabilities for importing existing WinFax PRO phonebooks and WinFax PRO fax files.
Similar User Interface
When looking for a WinFax PRO alternative you want the switch to new fax software to be simple. The process of switching from WinFax PRO to the FaxTalk FaxCenter Pro 8 fax software is made easier by the fact that the FaxTalk FaxCenter Pro 8 fax software has a similar interface to WinFax PRO and operates in much the same way. Many of the standard fax operations you perform in WinFax PRO are also performed in the same manner in the FaxTalk FaxCenter Pro 8 fax software so you spend less time having to re-learn how to use your fax software.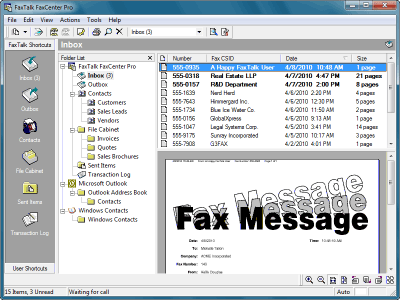 Supports Windows XP, Windows Vista, Windows 7, Windows 8 and Windows 10
Are you experiencing issues with WinFax PRO under Windows XP? Is the WinFax PRO software not performing reliably? Are you switching to Windows 8 or Windows 10 and finding that WinFax PRO does not support any version of Windows after Windows XP and has been discontinued? Having trouble finding a reliable WinFax PRO alternative? FaxTalk FaxCenter Pro 8 is fully compatible with every version of Windows from Windows XP to Windows 10 and is designed to operate reliably regardless of the operating system you use.
Download free trial!
FaxTalk FaxCenter Pro 8 is an advanced fax software solution and an excellent replacement for WinFax PRO. Try the FaxTalk FaxCenter Pro 8 software for free for 15 days and see how the advanced faxing features will enable you to send and receive faxes effortlessly. Stop dealing with your old unreliable, discontinued software and see how easy FaxTalk FaxCenter Pro 8 is to use.
Download a free 15 day trial of the FaxTalk FaxCenter Pro 8
Looking to replace TalkWorks PRO or for voice messaging and fax software?
Are you using TalkWorks PRO or looking for an easy-to-use voice messaging and fax software?
The FaxTalk Messenger Pro 8 software includes all of the advanced fax features found in FaxTalk FaxCenter Pro 8 and also includes powerful voice messaging capabilities similar to TalkWorks PRO. FaxTalk Messenger Pro 8 integrates answering machine and fax functions in a single application and is an excellent replacement for TalkWorks PRO. Take a look at our FaxTalk Messenger Pro 8 voice messaging and fax software.