FaxTalk Multiline Server 10
Network Fax Server Software
The FaxTalk Multiline Server 10 network fax server software is an inexpensive, reliable network based client/server color faxing solution for individual users on your network. Avoid the expense and hassle of setting up individual fax software solutions for each user and eliminate the need for dedicated telephone lines to each computer and use FaxTalk software to provide fax sending capabilities across your network.
Affordable network fax server
The capabilities in FaxTalk Multiline Server 10 provide small to medium businesses with an affordable client/server solution for enabling users with the ability to create and send faxes over the network. With FaxTalk Multiline Server 10 acting as a fax server and FaxTalk client software installed on the user's computer, your users can stop waiting in line to use the fax machine and quickly and easily create and send high quality color, grayscale or black and white faxes directly from their computer.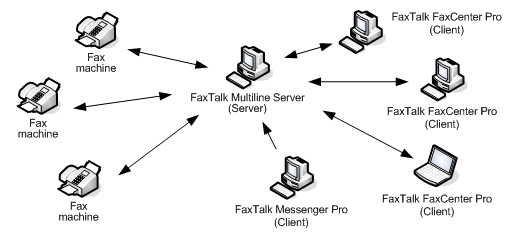 Turn any computer into a network fax server
A computer running the FaxTalk Multiline Server 10 software would act as a fax server and would transmit the faxes submitted by users on the network. There is no need for a dedicated "server" machine to use FaxTalk Multiline Server 10 as a fax server. Any computer with a standard fax modem connected to a telephone line can operate as the fax server on a network.
Supports a combination up to 8 fax modems and T.38 Internet fax services
You can start with a single fax modem and telephone line, or T.38 Internet fax support. If your fax volume requires additional lines you can simply add additional standard fax modems or increase your T.38 Internet fax service lines. Individual lines can be configured to limit connections to incoming faxes only, outgoing faxes only or allow both sending and receiving faxes. You can also automatically print received faxes, confirmations, and save faxes to PDF or JPG files on an individual line basis.
Create and send faxes from client computers
Network users would use the FaxTalk FaxCenter Pro 10 software running on each individual client machine to create and send color, grayscale or black and white faxes over the network to the fax server for transmission. The fax server would then transmit the faxes and optionally notify the user when the faxes is sent.
Advanced fax features
Includes powerful fax capabilities such as T.38 Internet fax, broadcast faxing, high-speed Super G3 (V34 Fax) support, 2D, ECM, delayed scheduling, sending faxes over the Internet to an email address using the included SMTP email client or a third-party email client such as Microsoft Outlook, direct access to contacts from Microsoft Outlook and Windows Contacts, spell checker, markup and annotation tools, ability to design custom cover pages, color scanner support, junk fax blocking, Caller ID, Distinctive Ring, automatic forwarding of faxes to email and much more.
Download free trial
The FaxTalk software provides advanced fax capabilities in a low cost fax server / client solution enabling your users to send faxes directly from their computers quickly and easily over a network. You can download a free 15 day trial of FaxTalk Multiline Server 10 to see how the features and capabilities of a FaxTalk network fax server / client solution can provide faxing capabilities for your network users.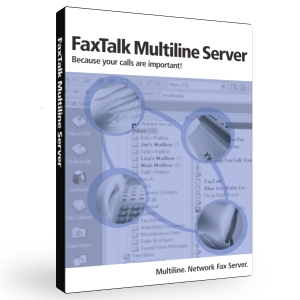 Purchase now for only:
$149.95
Sales Questions?
Call
1-800-532-9825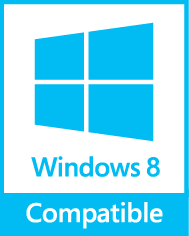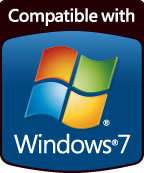 Compatible with:
Windows 11
Windows 10
Windows 8
Windows 7
Windows Vista
Windows XP
Windows Server 2022
Windows Server 2019
Windows Server 2016
Windows Server 2012
Windows Server 2008
Windows Server 2003
Languages Available: